Archive for April, 2008
Hard to ignore Warren Buffett quotes. They are always so "right on." Have been meaning to write this one down for the record and here goes:
"I don't want an easy business for competitors. I want a business with a moat around it. I want a very valuable castle in the middle, and then I want a duke who is in charge of that castle to be very honest, hardworking, and able. Then I want a moat around that castle."
Buffett is making the point that differentiation and the right leader make all the difference between a successful company and one doomed to fail. Our stumble rate (over three-quarters –79 percent– of the world's number-one most admired companies lost their crowns over the past five years in their respective industries) makes it increasingly clear how hard it is for companies today to maintain a castle, moat and duke that keeps a good reputation afloat.
In May I am speaking about reputation at a conference hosted by ID Analytics.  I am looking forward to it because the more I learn about identity theft and loss, the more I see the enormous threat to personal and corporate reputation. Two things this week crossed my desk (or should I say desktop) that highlighted the strong correlation between identity theft and risk to reputation:
A new product is being rolled out by insurance broker Lockton and Lloyd – Data Breach Reputation Guard. "When a data breach is followed by adverse media attention, the Data Breach Reputation Guard element of the policy will reimburse a business for reputational harm."
The second identity loss-related piece of information was something I read on Marketing Pilgrim noting a CNet article on new research among information security professionals. The survey by Frost & Sullivan (I could not find on their web site, so sorry) found that a whopping three-quarters of IT security execs report that avoiding reputation damage to their organization is a top priority.
Our research at Weber Shandwick found that security breaches were among the top five reasons why companies lose reputation today. The number of stolen identities is only increasing.  The connection between identity theft and reputation could not be more apparent. Am glad to know that my comments will resonate with those in the audience. Certainly fits the times.
 This is not at all profound but it seems to me that the group losing out during the Democratic presidential nominee process is not Obama or Hillary or even Bush. In my view, the media is the organization that is suffering the most damage. Over the past several years, several studies have indicated that there is waning trust in the fifth estate. After several scandals and declining revenues, the media is front and center again during this electoral process and getting poor reviews.  Some critics are claiming that the media is too easy on Obama (possibly not the case lately). Other critics are blaming the televised debate in Philadelphia between the two democratic candidates on the questions asked by ABC News' Charlie Gibson and George Stephanopoulos. The endless nighttime chatter about the candidates' war of words continues to hash the same information over and over and are engaged in a he-said, she-said stream of consciousness.
We have many more months ahead as the election race heats up and it might be the right time for the media to consider how it can reclaim its status at the top of the most admired professions. 
UBS just released an internal report ahead of this week's upcoming shareholder meeting in the hopes of explaining how they lost $37 billion due to subprime loans. There were several articles in the papers and online about the release. Wisely, UBS mentions the report on their Web site's home page. That was a good sign. Thankfully, the online report is only 50+ pages long since to someone outside the financial sector, it contains lots of inside baseball or should I say inside francs. There is a helpful glossary that explains all the alphabet soup products and regulatory bodies that are Greek (and Latin) to me.  The findings are particularly straightforward and downright honest. The New York Times' reporter Uta Harnischfeger commented, "Analysts said the finished product, which reads like a detective novel on reckless banking, could, in the end, help UBS by demonstrating transparency." Transparent is the right word. Some of the failures that led to the ouster of the chairman and tarnished reputation include (and these are just some):  
Fragmented approval structure:

Absence of risk management:

Incomplete risk control methodologies:

Lack of monitoring / visibility:

Distraction for Senior Management:

Inappropriate risk metrics used in strategic planning and assessment:

Failure to demand a holistic risk assessment:

Resistance to hard limits:

Gaps in risk management expertise / experience at the IB Senior Business Management

level:

Failure to respond to wider industry concerns:

Lack of response / speed of reaction:

Lack of challenge to business:

Lack of strategic coordination:

Shortcomings in approach:

Inability to accurately assess valuation risk on a timely basis:

Insufficient incentives to protect the UBS franchise long-term:

 
It is interesting that companies in distress are increasingly using independent internal reports as an early reputation solution. These reports go far in airing the dirty laundry and pre-empting penalties and fines. However, they go even farther in terms of recovering company reputation.  They lay the ground work for the next chairman or CEO on what went wrong and what needs changing in order to get the company back on its feet and off the respirator.  
Loved the headline in this week's Financial Times. I was flying back from Madrid on Wednesday, April 16th, and as I pulled my FT out of my bag, I saw the premier headline:
"UBS FACES THREE-YEAR FIGHT FOR REPUTATION"
UBS' new chairman Peter Kurer is quoted as saying:
"We shouldn't fool ourselves. We can't pretend  that there has been no reputational damage. Experience says it goes away after two or three years."
I wish Mr. Kurer had called me. I could have told him that research found that it takes approximately 3.5 years to recover a damaged reputation. So he was close. Perhaps I should send him my book.
I think it is nice to see CEOs and companies have a sense of humor. Part of building a CEO reputation is knowing how to leave a legacy, the last part of CEO tenure.
So if you have a few moments, take a look at Microsofts' founder and chairman Bill Gates' last day video (he is off to the Bill & Melinda Gates Foundation full-time). It is on YouTube and it will make you laugh. Nothing wrong with that.
http://www.youtube.com/watch?v=HEWMC4usElM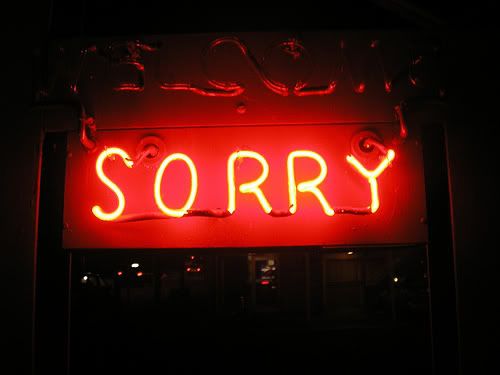 Been traveling this week in Europe. Just spent some time in the Hague and Amsterdam talking about reputation and reputation recovery to our Dutch office's clients. I am always reminded that some things are not exactly the same when it comes to leadership behavior. Whereas in the U.S., CEO apologies are practically a dime a dozen, this is not common practice in many European companies or countries. We had a few conversations about how corporate legal officers would not allow a CEO apology for litigation reasons. However, in the U.S., CEOs often bypass these restrictions in order to "share the pain" with stakeholders and move on from what has happened to what needs to happen next. In addition, many U.S. CEOs do not outright say "I apologize" but instead use the three words "I deeply regret…"
Despite this difference in apology proclivity, I noticed on cnn.com that the CEO of BAA was apologizing for the delays and baggage fiasco at Heathrow's new terminal. And while reading the papers over the past week, I learned that the UBS soon departing chairman Ospel more or less apologized. As reported in the April 6th  The New York Times, "I'm the chairman of this firm and ultimately repsonsible for what has happened." The description of this mea culpa was fairly striking. As reported, "But during an interview on Friday at UBS's neo-classical headquarters in downtown Zurich, the steely composure Mr. Ospel brandished at the Basel meeting was gone. Sitting in a plain white conference room adorned with maps of the world and the United States, his hands trembled and his eyes were cast downwards." No one said that accountablility is easy. UBS has lost over $30 billion from the subprime mess.
Perhaps UBS will pave the way for more apologies in the financial services sector. A headline in the IHT this week summed it up: "Banks' lack of contrition boosts chance for harsh rules backlash." Essentially the media is calling on banks to show "share more pain."
Yesterday turned out to be a fun day. I was a panelist at BlogHer Business '08 conference in New York City. BlogHer is a community of women bloggers and the annual conference has become quite successful. The case studies presented were truly amazing.I was joined by fellow panelists Mary Clare Hunt (www.ecolutionarySelling.com), Janet Eden-Harris (CEO of Umbria) and Tara Anderson (evangelist for Lijit) and moderator Elana Centor (blogger and independent marketing consultant). Our topic was "Who You Are, Not What You Do." However, it was fairly obvious to all us gals that we do what we are. As panelists, we were passionate about our jobs and what we were advocating (whether it was sustainability, reputation, online research, and start-ups). The audience was equally passionate, engaged and articulate about their entrepreneurial enterprises, blogs, or businesses. Lots of companies were there in support – Google, Hearst Digital, Fast Company, Kodak, Wiggly Wigglers, General Motors, Graco, HP. Although us panelists were not sure how all of our disparate jobs were going to tie together for the panel discussion, Elana made it seamless and fluid. I could tell that we all had fun which surprised us all. Of course, I got to talk about reputation and how to manage it online and offline. My company Weber Shandwick videoed the entire conference so it should be available online shortly. Take a look. I will post the link once I get it.
Have been saving this quote for my blog. Remember Jean-Marie Messier of Vivendi Universal fame. He lost his CEO-ship when the company found itself $35 billion in debt in 2002. He is now the head of an acquisitions advisory in New York, Messier Partners. The former CEO has had a comeback and once again we see that people can restore their reputations, including damaged CEOs. Messier is quoted in Time (3.24.08) as saying:
"The U.S. is the country of the second chance–where there isn't so much jealousy, and if you've had problems that you try to rebound from, everyone will applaud and will try to help."
Interestingly, despite all the negative press and approval ratings chatter about French President Nicolas Sarkozy's reputation, Messier is quoted as saying that Sarkozy is the one politico who still met with him after his ouster. I thought that this type of behavior speaks to a good character trait in the Sarkozy profiling.