Archive for February, 2010
  I was recently in Phoenix, Arizona at a conference on building and protecting reputation. It was hosted by Henkel. My part was to talk about what CEOs should be talking about now. More on that later this coming week but wanted to blog about the talk from Henkel's NA Consumer Goods president and CEO Brad Casper about working with corporate communications. It was good to hear a CEO talk so positively about the importance of his corporate communications team. Just by taking to time to talk to us at lunch time said boatloads.  Casper said that he believes that there are 6A's in how a CEO and corporate communications function can work together to establish and build trust. The CEO mentioned that his philosophy was that not communicating was far riskier than communication. His 6 A's are:
Anticipation (knowing what the organization needs to see and hear).  Casper talked about what he did once he agreed to take the job. He was an "outsider" CEO so he was unknown to employees who were dealing with a change in ownership.  He mentioned how the first person he asked to talk to was the head of corporate communications because that person would know best  what he needed to know, how to resonate with employees  and gain traction internally and externally. He was delighted when she showed up with a playbook in hand.
Access (making sure that he demonstrated that he was available and accessible personally). To develop that bond with employees, Casper along with corporate communications set up regular lunches with high potentials, monthly town meetings, and an online ABCs (Ask Brad Casper) on the intranet. He also started Breakfast with Brad and had lunch with new employees. Being accessible was one way to create that bond that builds CEO reputation and drives productivity and inspiration.
Awareness (to demonstrate that this was a new beginning since they had just been bought by consumer goods giant Henkel in Germany), the CEO and corporate communications decided to bring everyone together to participate on this journey. They rented out a nearby movie theatre within the first 100 days and had all employees attend to hear about the new strategy, hear about the future, create a vision, and help build a bridge between being what was once a U.S. company (Dial Corporation) and the multinational they were now.
Alignment (aligning the strategy with the core values and history of Henkel). Casper talked about the resonance of being part of a family. Several generations of the Henkel family had created this Fortune 500 company and this emotional narrative had to be intertwined into the NA Henkel fabric. He used this expression at our conference that stuck in my mind—that they would build their brand not as a company "but as a house." That has a nice ring to it.
Affinity (creating a family atmosphere that is inclusive and engaged with the community). Working with corporate communications, the leadership team worked hard to celebrate innovation, community service and other ways of giving back.  Accidentally as they moved headquarters to a beautiful new building, instead of giving everyone the day off on a Friday as the movers packed up, they decided to give back to the community by having everyone volunteer their time in the community. This turned out to be one very smart way to build that camaraderie that helps bind employees to companies and remove doubt that business is all about the bottom line.
Accountability (the CEO is accountable as well as its employees for the company's success).
Reputation is often said to be greater than the sum of its parts. However, making sure that all the parts work together and are communicated internally and externally builds longer-lasting reputations. CEO communicators can help make reputations stickier and advance a common purpose.
The Center for Marketing Research at the University of Massachusetts Dartmouth just released an interesting study of how Fortune 500 companies are using social media. The investigation was conducted by Nora Ganim Barnes and Eric Mattson. The examination expands on previous research they did in 2008.  There are some many interesting results which I want to share here.
1. 22% of 2009 Fortune 500 companies have public-facing corporate blogs (blogs are defined as company public-facing blogs from the primary corporation –no subsidiaries– that posted within the past 12 months). Another way to look at this finding, however,  is to note that 78% of Fortune 500 companies do NOT have public-facing blogs. Seems like a lot of companies are blog-less although the percentage is rising year over year (from 16% in 2008). Three of the top five Fortune 500 companies had one – WalMart, Chevron and GE.  The researchers also found that companies that have blogs work hard at blogging with frequent postings, RSS and other ways to engage visitors. Once they make the decision to blog, they do it. Companies with blogs came from different industries with the computer software/peripheral, office equipment industry having the most (not surprising) corporate blogs. This industry was followed in rank order by specialty retail, telecommunications, food production, services and drug stores, commercial banks, insurance, semiconductors, IT and motor vehicles.
2. The top 100 of the Fortune 500 companies are more likely to blog compared to those companies that fall later in the list such as 101-200, 201-300, 301-400 and 401-500. The largest companies are evidently leading the way.
3. A large 86% of companies with blogs link directly to a corporate Twitter account. This is three times more than was found in 2008. This demonstrates the rapid adoption of Twitter and social media once a company gets started in social media.  Just looking at how many Fortune 500 companies have corporate Twitter accounts altogether (whether they have a blog or not), the perecentage falls in at 35%. Again, that can be translated to mean that 65% of Fortune 500 companies do not have a corporate Twitter account. Weber Shandwick recently analyzed how Fortune 100 companies use Twitter and suggested that they might be in need of a Twittervention. Seems to be the case.
4. Interestingly, Fortune 500 companies are blogging at a slower pace than Inc. 500 companies (small businesses) – 22% vs. 45%, respectively.
5. Surprising to me was the finding that among those companies with a corporate Twitter account, the insurance industry had the highest concentration.
6. Luckily for those of us who are interested in how companies are using all types of social media, the researchers also looked at how Fortune 500 companies are using podcasts and video on their blog sites. They found that 19% of the 2009 Fortune 500 use podcasts and 31% use video. These are definite increases from 2008.
The authors conclude that there is a "continued steady adoption of blogs" and "explosive growth of Twitter" among the largest 500 companies in the U.S.  Since engagement with stakeholders is a key driver of reputation, the penetration of social media among our largest firms is moving in the right direction. However, there is plenty of room for more companies to join the social media bandwagon and hone their reputations by being more inclusive and engaging.
  As a reputation watcher who gets daily alerts about reputation, I recently noticed that there are fewer alerts about reputation and its ties to SEO (search engine optimization). It used to be that nearly every alert detailed some article or company on how to maximize your reputation by managing search engines better to help lift your reputation.  I do not know why there has been this decline but perhaps it is a widely known secret that many companies and brands have already mastered. Additionally, social media such as Facebook, MySpace and Twitter have rendered search engine optimization more complex and harder to control. I am not exactly sure but it has been on my mind. There were moments in time when I thought that reputation had been reduced to SEO tactics so I am much relieved that my favorite topic is broadening and not narrowing. My next observation is that "personal branding" has become a major theme in the reputation space.
Lately there has been alot of requests for more information on thought leadership. One of the questions I like to ask a company leadership is …what is their "moon shot?" Today I read something that made me think of another question to ask: What's your oxygen? What is absolutely necessary for you to breathe and thrive in the years ahead?
I am wondering if there are just too many awards out there.  Several major ones were released this week. Are awards becoming commoditized because there are so many? Hard to say but they sure are "good and plenty." (That's an expression from years ago. You may not be familiar with it.)
Next week I am speaking at a conference on What CEOs are Talking About Now. More to come.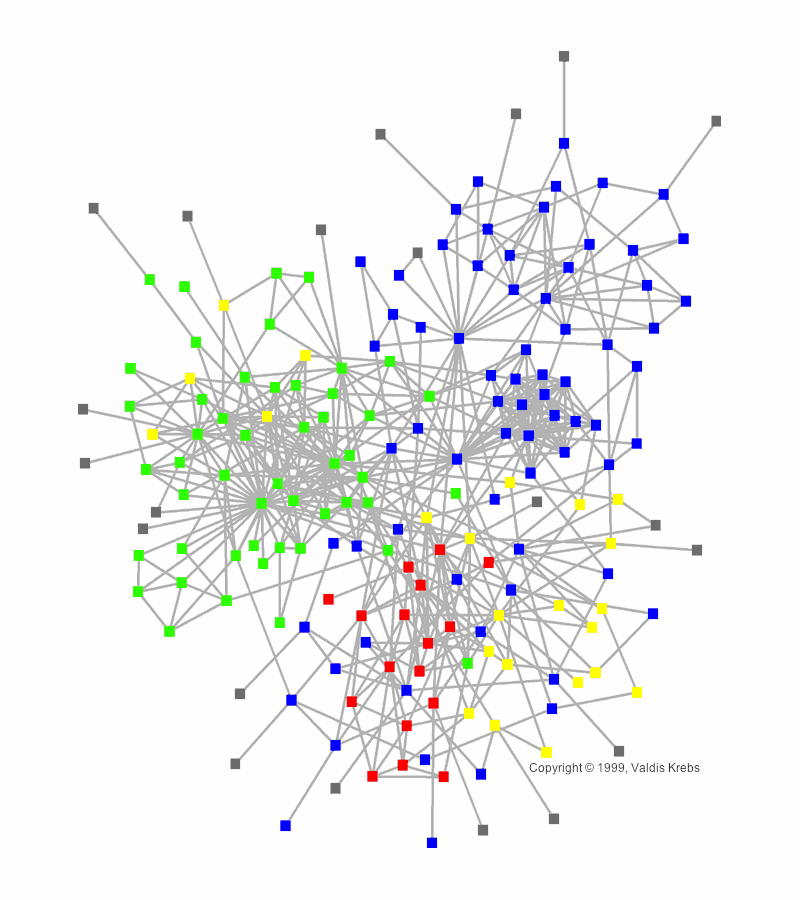 Very cool research study I just learned about in a WSJ blog. FIT researchers' Ronaldo Menezes and Ben Collingsworth tracked emails between employees during Enron's shakedown. They examined  nearly 517,000 emails sent by 150 senior managers during the last year and a half of Enron. They found that there was a spike in email exchange one month prior to the Fortune 500 company's collapse. They learned that "the number of  active email 'cliques' — defined as a group in which every member has direct email contact with each other — surged to 800 from about 100." Due to privacy laws, they could not dig deeper but this research demonstrates that companies may have a built-in early warning system that might be worth noting. The research is covered in New Scientist.
Early warning systems are very important to detecting clear and present danger that can impact reputations. It would be interesting to determine whether customer service teams have spikes in their emails before a problem unfolds publicly or whether some other company functions (compliance, safety) are chatting more than usual.
Reputations are so vulnerable today that any chance of capturing a problem is worth investigating and testing further. I imagine that Enron top managers had alot to talk about prior to its demise. As we all know, it is often too late by then.