Archive for March, 2010
I attended a conference this week on Social Reputation (I mentioned in my last post). A social media expert from Pitney Bowes discussed how the company jumped into the social media fray. She made an interesting statement which was well-Tweeted. She said that being a B2B company made it particularly hard to get messages across and that companies needed to humanize themselves. She then said that one learning from the work they are doing is that no one wants to talk to a logo. She is sure right on that count. Companies need to be good storytellers if they want to improve their reputations, especially in the social media space. They should try not to Twitter in corporate messages but in conversational tones. In the same vein, a communications director from Microsoft said that the 4th estate is important but people also want to hear directly from companies. Possibly this is why Twitter has revolutionized corporate engagement.
On a similar topic, I ran across this article this morning in TechCrunch that says that a Yelp-like product is coming very soon that allows people to rate each other's reputations anonymously. Just what we need. Anonymous raters telling the world about each other's discretions and stupid moments. Will be curious to see what this is but I do not have high hopes when it comes to anonymous reputation drive-bys. I am hoping that people show some restraint.
Attended an interesting conference today on social reputation. Several excellent presentations and roundtables. Will add some observations in my next post but I thought I would share an interesting insight I had before the day ends. The conference was about "social reputation" which I expected would also include observations on "reputation" in general. Interestingly, there was very little conversation about what reputation is and how social reputation is a component of overall reputation. Instead, many of the presentations were about "online reputation" building mostly through two way conversations, social media and engagement. For a moment I was wondering reputation does not exist unless you are talking about social reputation. Social reputation is but one way that reputation is manifested but it is not the entirety of what reputation is all about.
I think that the fervor around social reputation may be causing people to turn a blind eye to the totality of reputation-building  — how you treat employees, act as a good corporate citizen and build high quality products and services. And of course, one has to be financially sound. You can be the best social media maven and engager but you still need these important building blocks to make sure that people want to hear from you.
I was pleased to think that a holistic approach to reputation might be the better way in the long-term. The pendulum will swing back to a more holistic approach but right now reputation managers must open their eyes wide.
[Interestingly too, two of our clients spoke and they had more holistic reputation presentations so I felt good about that.]
Are you an external corporate communications professional or executive speechwriter? If so, please take this easy survey on the topic. I would appreciate!
I came across an article on the growing importance of PR in time of crisis. It was in the London Evening Standard. No surprise why I read it. The title was "Who does a CEO call first in crisis? PR Men." It first caught my eye because it has to do with CEOs and the rising importance of PR counsel. The reason I took a second look was the headline about CEOs calling PR Men. Please! There must be some women to call. It is 2010 after all. Let's move on.
The author describes how CEOs used to call their financial advisor or legal counsel when crisis first struck. Now they call their PR head. Research that we at Weber Shandwick have done with Spencer Stuart over the past two years among global Fortune 500 corporate communications officers (The Rising CCO) found an increase in the importance of crisis experience on the job. Additionally, more CCOs now report to the CEO (58% last year), reflecting the rising importance of that position.
"PR has certainly moved up the food chain in the last five years," says UK PRWeek's Danny Rogers.  "Reputation is your biggest asset in the modern world. Media and public scrutiny of corporations, brands and individuals has increased. Your reputation can be destroyed so quickly now because it is so global."
PR should have a seat at the table in good times and bad times.  How a company or organization communicates its vision and values matters 24/7 in this transparent and see-thru world. Reputations can be toppled overnight and sometimes due to rumor and innuendo. Companies must be vigilant in monitoring and defending their reputations. PR deserves to be valued finally.
  Everyone and everything seems to have to worry about their reputation these days. The Seattle Humane Society is working on managing the reputation of pit bulls…the dogs that have a nasty reputation although are apparently wonderful family dogs. The Humane Society has a $50,000 grant from PetSmart Charities to spay and neuter pit bulls in the hopes of making them more attractive to dog-adopters. Interestingly, 30% of shelter dogs are pit bulls. The news media and probably word of mouth has depicted pit bulls as aggressive, temperamental dogs when in fact they are very good family dogs. Those images of pit bulls are the result of ill treatment! When I went to Google images to select a picture for this post, the majority of the first photos I saw of pitbulls were those with huge chain collars and tied to fences. In addition, there were some photos of pit bulls in the most aggressive poses imaginable. Contrast this with golden retrievers.
Kirstan Sanders of Recycle-A-Bull Rescue and Families Against Breed Bans says: "Typically, when a reporter talks of the 'family pet', they don't know that it was a dog tied to a shed on a 4-foot chain, never fed or watered, left to the elements and never socialized. If it was any other breed with that fact pattern surrounding his or her living situation, the press would be talking about the horrific abuse the dog endured." She has a good point. More dogs need help with their reputations. Dogs are very popular in my neighborhood since we all have access to Prospect Park. Reputations rise and fall each year according to how the dogs socialize every morning when they run free, including my well-behaved dog. In fact, as Sanders notes, dog breed reputations have more to do with the owners than people suspect.
Reputation handling for dogs is a whole new line of business I have never considered in this crazy upside down reputation-frenzied world. I learn something new every day.
   At Grand Central, I bought a copy of the latest Fortune  with the World's Most Admired Companies survey in it. I was checking out the feature because I found it easier to look at the list in the magazine than online.  As I looked at the new design at Fortune (bravo! love the paper quality) and came across this article by Geoff Colvin who wrote about how Most Admired Companies value their employee cultures. He says that the "top dogs" are great examples of companies that do indeed treat their employees as their finest assets. A few insightful details about the winners and losers in the Great Recession:
Most admired companies (industry champs or the top three in each industry) laid off fewer people in the past two years compared to less admired ones (10% vs 23%)
Most admired companies were less likely to freeze pay or hiring compared to less admired ones
Most admired companies were much more likely to invest in employer branding, more so than marketing in fact,  compared to less admired ones
As Colvin sums it up, Most Admired companies understand that people are their most valuable and most enduring asset and not an expense. I bet they correlate highly with Fortune's Best Places to Work too.
As you may know if you follow this blog, Weber Shandwick took a deep look at where executives of the world's most admired companies spoke in 2009 compared to earlier years. The analysis  (Five Star Conferences) showed that executives are ramping up their speaking engagements in an effort to get their messages out and narrate their company stories. At Weber Shandwick, we have a group dedicated to executive engagements that ultimately help boost and solidify company reputations. They are called our Global Strategic Media Group and they do fine work, including the analysis just mentioned! Since my days at Fortune, I have always been fascinated by executive conferences so it is a continuing interest of mine. Executive speaking is definitely one tool in the reputation tool box just like awards and scorecards, among other things.
We thought it would be equally interesting to see what executive communications professionals think about the executive conference scene and teamed with Vital Speeches and David Murray to query this segment. If you are an executive communications professional or executive speechwriter that positions CEOs and other C-level executives at top tier executive conferences, please take several minutes to answer this survey. We would greatly appreciate and will share the results once they are in!
"Integrated reporting is now the holy grail in corporate public disclosure," says John Elkington, co-founder, SustainAbility. Well, the time has arrived for corporate reporting that integrates financial performance and non-financial information such as environmental, social and governance issues. Integrated reporting is the subject of Harvard Business School Senior Lecturer Robert Eccles' new book, One Report: Integrated Reporting for a Sustainable Strategy (John Wiley, 2010). According to Professor Eccles, there are only a handful of companies in the world that practice integrated reporting. To learn more, check out their web site. The idea behind integrated reporting is much more than a static paper document or PDF. It's a web-based approach that makes strategic use of Web 2.0 tools and technologies to enable users to do their own analyses. This may just be the corporate reporting standard of the future. Integrated reporting as described in Eccles' new book offers several benefits….such as deepened engagement with stakeholders, improved corporate governance and communication of performance with "ONE" conversation. Just imagine, one conversation to share your reputation.
  Rankings are moving up in this world. I noticed the statement from Fortune in their recent announcement on the World's Most Admired that they received their best response rate in history. Hmmmm.  After years of falling response rates, what's the deal here? And this week my colleage told me that the entries for Ethical Corporation Awards were delayed by a few days because of the outsized volume of entries. Is this a trend? Are these rankings rising in importance because what's better than having an independent third party saying you are #1? There is definitely a trend here worth watching.
*** IMPORTANT ANNOUNCEMENT: SHORTLIST DELAYED ***
As a result of the sheer volume of entries for the inaugural Ethical Corporation Awards, we have been forced to delay the announcement of our shortlist.
This announcement will instead take place in the afternoon of Monday 8th March.
So the Fortune World's Most Admired Companies survey is out. Could there have been a more tumultuous year to measure reputations?
The reputation "stumble rate" is not good. Nearly one out of two (49%) of the world's number-one most admired companies lost their crowns over the past year in their respective industries. To calculate the Most Admired Companies stumble rate, Weber Shandwick looks at the leader in each industry and matches it against the industry leader from earlier years. Unfortunately, we only have one year's stumble rate because Fortune changed its most admired methodology one year ago by combining its two separate lists (America's Most Admired and World's Most Admired into one list, the World's Most Admired). For our stumble rate, 2010 industry leaders are compared with 2009 industry leaders and if the industry leader is different, it is defined as a reputation "stumble." Losing the industry crown is painful. The bragging rights of being named the #1 most admired company in one's industry in the world is priceless. While reputation loss may now be inevitable, it still stings.
Here are the industries (55 this year) where the previous year's #1 most admired company fell from its perch.
Airlines
Beverages
Computer Software
Computers
Delivery
Energy
Financial Data Services
Food & Drug Stores
Health Care: Medical Facilities
Homebuilders
Insurance – Life & Health
Medical & Other Precision Equipment
Mega Banks
Motor Vehicle Parts
Pharmaceuticals
Superregional Banks
Telecom
Tobacco
Trucking, Transportation & Logistics
Wholesalers: Diversified
Wholesalers – Health Care
In an article about the list, the writer says "turnover among Fortune's top 50 All-Stars list this year was just 10%, roughly what it has been for most of the past decade. Seventeen companies have been on the All-Star list since its inception in 2001; more than half of this year's top 50 have been on the list eight of the past 10 years. That rock-solid staying power is a testament to the lasting value these elite companies have created. And it shows how tough it is to make our All-Star list." The All-Star list is what corporate raters say are the top 50 most admired from any industry. Interestingly, the majority of the top 50 in 2010's list are consumer-facing companies such as a Walmart or Best Buy. In fact, less than one dozen companies on the top 50 are what I would call business-to-business. There has always been a bias towards more consumer-specific companies in the top 10, top 20 or top 50 regardless how it was determined. This bias could be because the greatest number of corporate voters are familiar with most consumer-facing companies compared to some of the business-specific companies that are lesser well known and perhaps more regional. A different perspective from Weber Shandwick's stumble rate but an interesting one as well.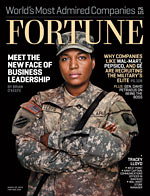 As I mentioned in my last post, I was eager to see the cover of this year's Most Admired. Would CEOs be on the cover with tears in their eyes over the turbulent past year or would products be featured instead? Maybe Fortune considering featuring a CEO who suffered the most over the past 12-18  months or what about 2009 departed CEOs? I have to say I was surprised. The cover, as seen here, features military leaders! The cover feature is about how companies are employing a new type of leadership – the military. What message does this send if the Most Admired roster does not make it to the cover? Is the Most Admired becoming one of many rankings or is being most admired not as important as it used to be? I doubt the latter because the article also stated, "The financial crisis may finally be abating, but after a year of dramatic ups and downs, there's little doubt that corporate reputation matters more than ever before. Perhaps it's no surprise, then, that while entire industries adjust to wrenching changes as the economy starts to stabilize, a ranking of who's admired and who's not would have particular import."
Perhaps no words or pictures could describe what a beating this year has been for many of the most admired.