Archive for September, 2010
  The tragic story of a young student violinist who jumped off the George Washington bridge this week because of a posted video of his liasion with another man made my heart stop. The New York Times obviously thought it would stop and make others think because it was featured on their front page today. There must be a way to teach people about online privacy and how reputations can be harmed beyond repair if no one is thinking. This poor young man was convinced his reputation was irrecoverable once his roommate and friend crossed the boundary of common deceny. Ironically, Rutger's University where the young man went to school, was embarking on a week devoted to Civility.  I immediately thought about our timely recent research on Civility in America and I provide it to you at this link.  On the radio this morning, I also heard President Obama mentioning political civility. What will it take to change our course of behavior?
 Surprising link between college reputation and undergraduate majors. The reputation of one's university matters more to those who graduate with degrees in engineering, accounting and economics than those who majored in communications, psychology and history.  A survey by WSJ/PayScale.com interviewed over 10,000 recent graduates (see chart below).  I would never have guessed that math-oriented types would believe in the almighty importance of reputation but recruiters probably set up interviews at certain schools based on exactly that, their reputation. Additionally, majors in the "softer" areas of concentration are probably open to various types of jobs and the entire recruiting process is fairly random because you can try so many things.  If you are an engineering graduate, you are probably pretty dead set on that as a career. Let's face it, graduating with a major in history does not necessarily lead you into a company focused on historical producs and services!  
Glad to see that these engineering majors are so with it.
 As the economy ebbs and flows, employee engagement is rising in importance. More CEOs are talking about it and thinking about new and creative ways to communicate with their workforces.  Some interesting stats surfaced from a survey of global HR professionals from Boston Consulting Group and World Federation of People Management Associations. [By the way, that sounds like a new term for the upcoming new year in 2011 -- Federation of (FILL IN).  I have not heard it used much except in connection with wrestling (WWF).  I might try to use it somehow myself -- Federation of People Interested in Reputation or Federation of PR Professionals or Federation of Reputation Recoverers.]
But back to the point of my blog post. HR executives were asked to rank priorities for the upcoming year and the findings were compared to 2008.  Take a look.  Enhancing employee engagement has risen over the past two years and for good reason (see below). Leaders need to build morale among the workforce which has been hit hard by the Great Recession and they need to hold on tight to their best talent. It makes sense to keep the dialogue flowing by engaging employees and listening to them.  A recent article in Strategy + Business about Zappos reflected on this idea of building the right culture. The head of business development and brand marketing is quoted as saying, "I read about how Zappos is focused on customer service. It isn't. It's focused on company culture, which leads to customer service. We don't talk about customer service; we allow it to happen on its own by having the right people." And I would add by taking the time to talk to employees and building an open culture.
2010 Ranking 
#1 Improving leadership development (#2 in 2008)
#2 Managing talent (#1 in 2008)
#3 Enhancing employee engagement (#7 in 2008)
Source: BloombergBusinessWeek (9.19.10 issue)
Interestingly and I should add depressingly, work-life balance suffered the most as an action item for HR professionals. In 2008,  it was #9 on the agenda and this year it was #16.  To build a reputation as a good place to work, employee engagement and work-life balance need to be linked. The Great Recession has knocked out work-life balance issues but I have no doubt that it will come roaring back in time. This next generation demands it. And we owe it to them.
  In an interesting take on reputation damage control regarding the new movie (The Social Network) about Facebook's founder Mark Zuckerberg in the Wall Street Journal today, I came across the following quote by the producer Scott Rudin about Facebook's involvement.
 "They were trying to figure out a way not to tie Mark's personal identity to the identity of the company. Because they were and are talking about an inevitable IPO and clearly want the company to be bigger than Mark Zuckerberg."
There is no way that Zuckerberg's personality is not tied to the company. When it comes to founding CEOs and when it comes to companies in the technology industry, the link is inextricable and unbreakable. It is a double whammy when the product, in this case Facebook, is so stupendously successful. It would be nice if this were not the case but there is no arguing about this. Think about Steve Jobs and Apple, Bill Gates and Microsoft, Larry Ellison and Oracle and Scott McNealy and Sun Microsystems, to name a few.  That's the way it is. Each of these is endlessly interesting in how these young men started these colossally large firms and changed the industry forever.
Yes, the company is bigger than Zuckerberg, technically-speaking. But as I have said so many times before, the CEO or founder is the public face of the company and no more than it is in this new and exciting social media age. It has a storyline with grand proportions which is why a book has been written and a movie made.
I thought that the New Yorker interview with Zuckerberg added further dimension to the founder's personality and probably counterbalanced some of the negativity that is in the newly released movie.
Go with the flow.
 A few interesting reputationally-related items crossed my desk or should I say my network.
First, David Larcker and Antastasia Zakolyukina of Stanford University analyzed 30,000 conference calls between 2003 and 2007 to determine if the Q & A period offered clues to when CEOs are being deceptive. They reviewed financial restatements to determine whether CEOs or CFOs were misleading or being untruthful.  The researchers believe that these top execs know if they are manipulating results and clues can be uncovered in their spontaneous comments in the Q&A session. They based their findings on "deception detection research" — a field I had not heard of!  Who would have known. The findings are relevant to those of us in the communications business since it is all about words. It is hard not to recall former CEO of Enron Jeff Skilling cursing on the phone during an investor call near the end. Cursing is probably another telltale sign. So what are the cues they found in this robustly-researched undertaking?  The Economist summed it up best so will borrow their words: 
"Deceptive bosses, it transpires, tend to make more references to general knowledge ("as you know…"), and refer less to shareholder value (perhaps to minimise the risk of a lawsuit, the authors hypothesise). They also use fewer "non-extreme positive emotion words". That is, instead of describing something as "good", they call it "fantastic". The aim is to "sound more persuasive" while talking horsefeathers. When they are lying, bosses avoid the word "I", opting instead for the third person. They use fewer "hesitation words", such as "um" and "er", suggesting that they may have been coached in their deception."
Congrats to David Larcker who I met a few years back when I was researching the impact of CEO reputation on corporate reputation. David was at Wharton and he was able to help me demonstrate that it was indeed impactful.
Second, I just browsed a  report that came across my desk from MIT Sloan Management Review on The Business of Sustainability which was conducted by Boston Consulting Group (BCG). It is their first annual study and provides some very interesting results among 1500 global corporate executives. Overall they found that 92% of this executive class believes their companies are addressing sustainability issues now and less than 25% reported that their companies have reduced their commitment during these tough economic times. Reputation-wise, these executives said that the greatest benefit to company sustainability commitment was "improved company or brand image."  This benefit far exceeded other pluses such as cost savings, competitive advantage, employee satisfaction, etc.
Third, this funny subject line came through on my email at work.  "Why do business executives feel doubtful, even tired?" It just struck a chord with me. I think it describes most people I work with these days….isn't everyone in business tired? My favorite question to ask people I meet is how many hours do you work on the weekend? I am always trying to place myself on a spectrum of weekends spent working. So far, I have not figured out how people turn it off.
A friend of mine sent me the new list of the 1000 most sustainable companies in the world and a blogger's write up of the ranking compiled for JustMeans by CRD Analytics. I agree that this is an amazingly important and rigorously researched list — The Global 1000 Sustainable Performance Leaders.  Elaine Cohen, the CSR blogger,  calls it the "Gold Standard for assessing and ranking the overall sustainability performance of public Companies. She went on to report : "Diving deeper into the data shows that the economy delivering the highest number of sustainably performing companies is Japan (with 191 of the total G1000), followed by the USA (163) and Great Britain (144). Sector-wise, the metals and mining sector leads with 68 companies in the G1000, followed by chemical companies (63) and commercial banks (63). "  Not what I would have guessed which makes the list even more interesting.
What also caught my attention, however, was her mention of  chronic list fatigue.  "The G1000 appears to be an appropriate solution to what has become 'ranking-fatigue' over the past few years. The multitude of rankings, ratings, lists and proud press releases, including the most recent DJSI 2010 pronouncements, which together show little or no correlation between the most sustainable corporate citizens in each list, not only confuses, but can positively mislead."  I was glad she mentioned the fatigue issue which I believe I have remarked on as well.  We often get called about reputation rankings (which we call Scorecards and fall under our Scoreboxx offering) . We are often asked which one to believe and what is the difference between this one and another one and what is the most important. We also get asked for estimates on how long it takes to apply for a particular ranking.  Surprisingly, we have an idea.  As reputation scorecard experts, I would answer, "it depends." It depends on the quality of the ranker and importantly, who did the rating — employees, investors, consumers, executives, industry peers, etc.  There are as many answers to what is important to a company as a reputation-builder as there are rankings. It would be great if there was just one ranking but there are many….in fact hundreds.
Just this week ,the Interbrand survey of top global brands was released. Over lunch last week, someone mentioned a survey that pitted non-Ivy league vs Ivy-league schools against each other according to employers.  State schools won out for the best candidates for entry level positions. Penn State performed best and the Ivies were put to shame. The reasons why are enunciated in the article. An interesting read.
The Fortune World's Most Admired is probably on its way to companies in the next few weeks. Ranking fever arrives. Wondering if there is a cure.
Am always interested in letters from CEOs to customers. A former colleague (thanks Erin) sent this to me from the CEO of HopStop, the wonderful site that tells you how to get from one place to another as a pedestrian. I use HopStop all the time. The letter is very straightforward about changes they have made and how they use customer feedback to improve the site. The little emoticon – the smiley face
– made me smile. Just how many CEOs would do that. Nice touch. Not for everyone but works here.
Dear HopStoppers:
My name is Joe Meyer and I'm the CEO of HopStop.com. In late August we launched a new search interface and routing engine to improve the way we deliver our door-to-door transit and walking directions. Many of you have written to us since then to share tips on how we could further improve our new system, and some of you expressed that you missed aspects of the old interface. No matter the message, we greatly appreciate your suggestions and we made several additional improvements to our service based on your real-time feedback:
• Our address entry forms are much simpler and more straightforward. You can now enter your starting and ending addresses however you'd like and we'll be able to recognize them due to our improved address recognition capability.
• We launched (and continue to connect) more cities, so now you can use HopStop not only in your hometown but in many other cities as well (and to also get from city-to-city)!
• We introduced reverse-routing capability so you're now able to get round-trip directions.
• To find out about all of our recently introduced improvements, click here.
We hope you'll be pleased with the results of our hard work, and we're always eager to receive your feedback. HopStop is the only pedestrian navigation service that takes all user feedback into account to make our service better for everyone. So please keep the feedback coming – we promise to listen
.
Thank you for being a loyal HopStop user.
Regards,
Joe
Joe Meyer, CEO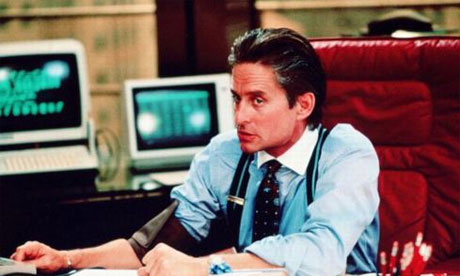 I remember distinctly a few years ago when the first few movies/documentaries came out about the pharmaceutical and tobacco industries.  My first reaction was that there was going to be an entirely new film genre in due time – the business class. I think I was right.  Years ago, it would have been preposterous to think that people would pay to go to the movies to watch a story about some CEO or executive behaving poorly.  What could be more boring!  Now it seems that a whole slew of movies are coming out about bad CEOs and executives or politicians (they seem to be all mixed up together today in people's minds).  Hard not to agree that this is  where all the drama is these days. Unfortunately, the reputation of big business and their chieftains are at an all time low. Weber Shandwick's research found out several months ago that only 14% of Americans think positively of CEOs. So now we get to watch the bloodletting on the silver screen. And the reputation of CEOs don't get even a chance to redeem themselves a little.
This all came to mind while reading an article today in The New York Times about several documentaries now showing at the Toronto International Film Festival and soon to coming to the U.S.   They do not paint a pretty picture of business. The title of the article said it all — "Documentaries Zero In on Wall street, and They Show No Mercy."  The films are Client 9 about Eliot Spitzer, Inside Job about Wall Street's role in the financial collapse and Casino Jack about Jack Abramoff, the former business person and lobbyist now finishing up his prison sentence in a half-way house for defrauding Indians. This is not to mention Michael Douglas coming back as Gordeon Gekko in Wall Street directed by Oliver Stone. He too arrives on the scene from prison to advise a young trader.
Ironically, I had a conversation earlier today about how to rebuild trust in the CEO position. After learning more about these movie debuts, it seems that CEO rehabilitation has a long way to go among the general public and filmmakers.